RC-Cornet® (Base Cornet)
Respiratory therapy device for the lower respiratory tract – loosens phlegm, reduces coughing and shortness of breath
Studies show that consistent RC-Cornet® therapy reduces the need for antibiotics and the frequency of hospital stays. 1)

Product features:
Effectively frees up the airways of sticky bronchial phlegm
Satisfies the highest clinical requirements (KRINKO) in terms of application and hygiene (max. 134 °C / multi-patient use)
Can be connected to a nebulizer through an adapter, for improved drug deposition and a shortened therapy time
Suitable for both adults and children
Can be used in any body position

Learn more about respiratory therapy with the RC-Cornet®
Use of the RC-Cornet®
To use the RC-Cornet®, close your lips around the mouthpiece. Breathe in through the nose and slowly breathe out through the mouth. When exhaling into the mouthpiece, slight pressure is formed in the bronchi, which treats the airways (OPEP respiratory therapy).
We recommend using the RC-Cornet® for acute cases of congestion 3x a day for 2 to 5 minutes if not otherwise prescribed. With first use, the RC-Cornet® already has a beneficial effect on the airways and loosens stubborn bronchial phlegm. Steady improvement of the person's state of health is achieved through continuous use of the RC-Cornet®.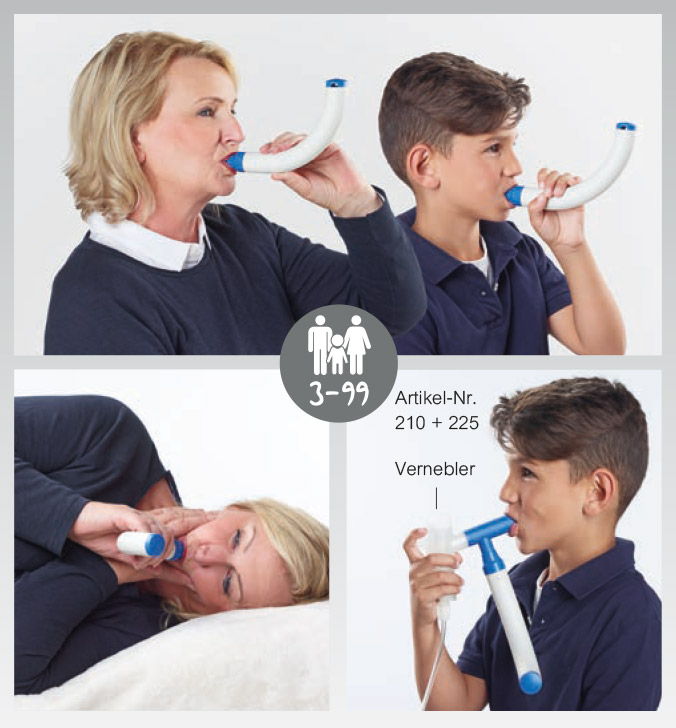 Do you have:
frequently recurring respiratory tract infections?
fast onset of shortness of breath during exertion?
a dry cough or problems coughing up phlegm?
a strong productive cough, especially in the mornings?
The RC-Cornet®
effectively frees up the airways of stubborn bronchial phlegm
alleviates dry coughing
reduces the need for antibiotics and the frequency of hospital stays
satisfies the highest clinical requirements
Professional associations recommend the RC-Cornet® for the following medical conditions:
Ordering Information
The RC-Cornet® is available online.
PPN 110 841 866 756
Article no. 210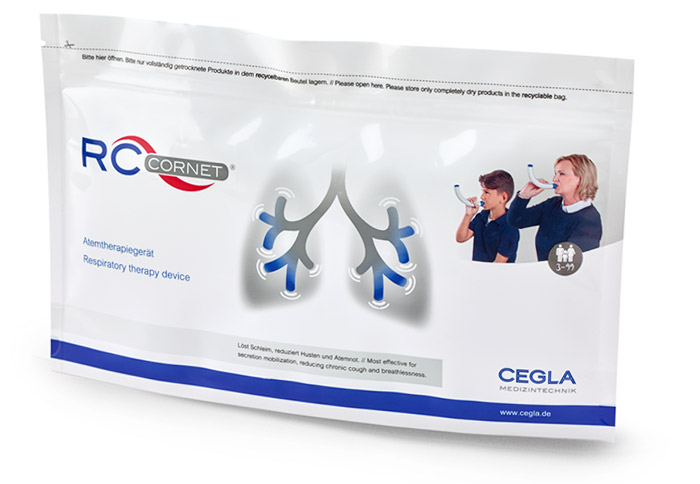 The recyclable outer packaging is ideally suited for storage of the product.
Accessories
By retrofitting or upgrading, the RC-Cornet® can be used in versatile ways. With the help of different accessories, it can:
– be combined with other inhalation and measurement devices
– be used for therapy of the upper respiratory tract
The RC-Cornet® Adapter with mouthpiece (Article no. 225, PPN 110 141 313 578) allows for the simultaneous performance of respiratory and inhalation therapy for optimised drug deposition.
The RC-Cornet® Nasal Set (Article no. 221, PPN 11 088 623 33 63) allows for conversion to an RC-Cornet® N for therapy of the upper respiratory tract.
We will be happy to answer any questions you may have.
Please contact us: Mondays to Thursdays from 9 to 12 h and 14 to 16 h. Fridays from 9 h to 14 h, German time.
Instructions for use, product brochures and supplementary information as PDF downloads, are available here.
You may find the following interesting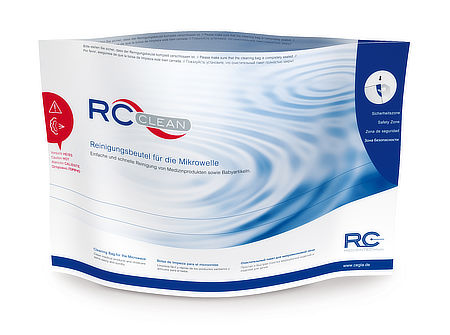 Clean medical products and baby articles easily, quickly and safely in the microwave.
Please note that product images may differ from the original product.
1 Studies are available upon request.