The lungs are built in the shape of an upside down set tree. The bronchi function as the multiplying branches. A single bronchus consists of muscles on the outside and mucous membranes on the inside. It can easily constrict. Therefore, the large bronchi are reinforced with circular cartilage rings for stability. Small bronchi do not possess such reinforcement.
If we breathe quickly or cough, overpressure is exerted in the chest. This overpressure would normally constrict the bronchi and make an exchange of gases impossible. However, healthy lungs can prevent such constriction through tensioning of the elastic pulmonary alveoli and small bronchi.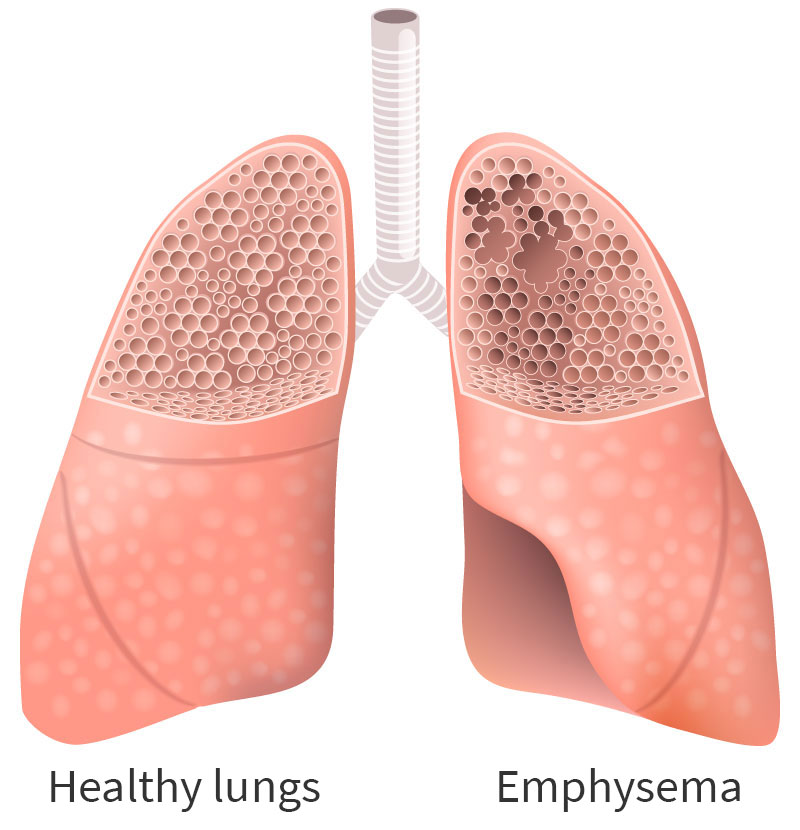 If a diagnosis of emphysema is present, however, the elasticity and number of pulmonary alveoli are reduced or destroyed in part. As a result, the elastic tension of the lung tissue, which keeps the bronchi open when coughing, is lost. In cases of emphysema an increased exhalation pressure in the chest causes a constriction of the bronchi. The bronchi become congested.
Patients suffer from shortness of breath, chronic coughing, and a limited ability to function. In addition, bacteria may settle very easily on the mucus, often causing acute respiratory tract infections.
The following products can help you in the event of an emphysema:
A PLUS for added quality of life
The new RC-Cornet® PLUS pep therapy device produces a positive exhalation pressure that loosens up stubborn bronchial phlegm in the event of chronic respiratory diseases, and reduces coughing and shortness of breath.
Pep therapy for the lower respiratory tract – loosens phlegm, reduces coughing and shortness of breath.
The spacer for inhalation for all ages
The RC-Chamber® spacer for inhalation simplifies the use of metered-dose inhalers and minimises side effects due to drug residue in the throat area.
Lung function test for COPD
It measures the most important pulmonary function values for COPD quickly and reliably, and displays the stage of illness pursuant to GOLD.