RC-Cornet® PLUS
PEP / OPEP therapy device for the lower respiratory tract – loosens phlegm, reduces coughing and shortness of breath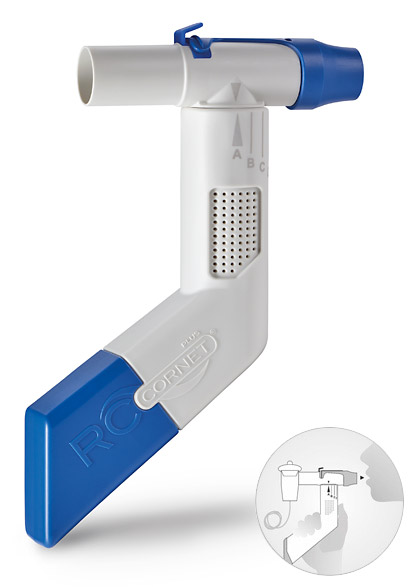 Guideline-compliant PEP* therapy for the effective loosening and removal of sticky bronchial phlegm. The RC-Cornet® PLUS achieves an oscillating positive expiratory pressure (OPEP) during exhalation. The risk of respiratory tract infections is reduced.
Studies show that regular RC-Cornet® PLUS therapy, especially in cases of COPD, reduces hospital stays and the need for antibiotics. 1)
* positive expiratory pressure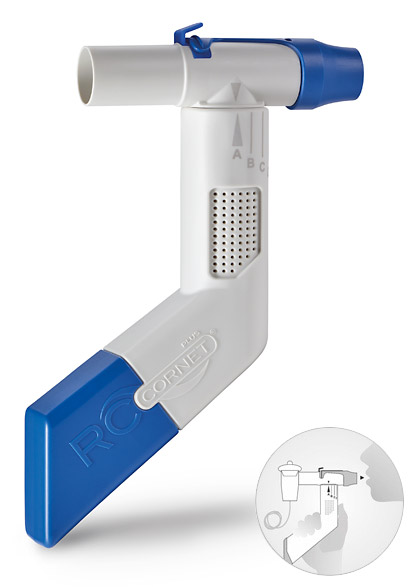 RC-Cornet® PLUS – Active Principle
The RC-Cornet® PLUS is a further development of the RC Cornet®. It offers many innovative elements that simplifies its use in everyday life.
Product features
Choice of two treatment forms: Dilation of the bronchi preventing breathlessness (setting I) and reduction / mobilisation of bronchial phlegm reducing cough and infection risks (setting II)
Improvement of gas exchange
Individually selectable intensities thanks to four different resistance levels for each treatment form. In each setting, the intensity of resistance can be pre-set to four different levels (A-D) based on the patient's needs; it is thus also appropriate for weak patients
The integrated nebulizer adapter allows for simultaneous respiratory therapy and mist inhalation. This shortens the therapy time and improves the deposition of drugs
Reduced volume: thanks to the new body design, operation is quieter
Can be used in any position
Suitable for both adults and children
Satisfies the highest clinical requirements (KRINKO) in terms of application and hygiene (max. 134 °C / multi-patient use)
Product design
The RC-Cornet® PLUS is a further development of the RC Cornet® (base cornet). It features many innovative elements that allow for even easier use in everyday life and extends the therapeutic options.
Choice of treatment form
The patented mouthpiece allows for the accurate choice between two different treatments: stabilising exhalation pressure to reduce shortness of breath (setting I) and mobilising exhalation pressure to reduce coughing as well as an infection risk(setting II).
Nebulizer connection for inhalation
With RC-Cornet® PLUS, a combined inhalation and respiratory therapy is possible. The length of therapy is reduced and the deposition of drugs is improved.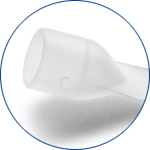 Hygienic, easy, effective
The new tube design makes handling and assembly easier, and allows for a faster drying time for the tube using the new drying aid.
RC-Tracheal mask
For patients with an open tracheostomy, the RC-Cornet® PLUS is adaptable thanks to the RC-Tracheal mask.
Article no. 3012 | PPN 111 118 816 586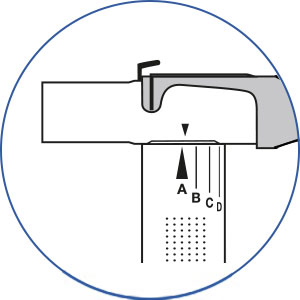 Different resistances
Each setting has a selection of 4 resistances. This allows for individualised therapy – starting at a minimum exhalation pressure of > 5cm H2O.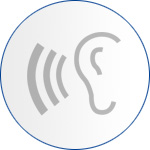 Quieter during use
Reduced volume thanks to its redesign.
RC-Cornet® PLUS resistances

The RC-Cornet® PLUS allows even very weak patients (including neuromuscular and stroke patients) to receive PEP / OPEP therapy using the different resistances in each setting, as well as using the complete exhalation air. Tip: in the case of tracheostomised patients, it might make sense to begin with setting II.
Effective x2 for respiratory tract diseases
Optional combination of respiratory therapy and mist inhalation:
Therapy becomes more effective through dilation of the airways in setting I and simultaneous mist inhalation through the integrated nebulizer attachment. The nebulizer attachment fits all standard ISO nebulizer.
The RC-Cornet® PLUS NEBULIZER SET (PPN 111 443 990 049 | Article no. 2651) is available for non ISO nebulizers.
The combination of the one-minute dilation of the airways in setting I and subsequent use of the RC-Chamber® with metered-dose inhaler improves drug deposition.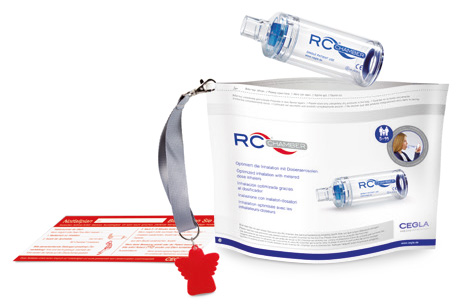 RC-Chamber® with mouthpiece inhalation aid incl. safety pouch, emergency plan and guardian angel hanger
Article no. 30300
PPN 111 171 102 343

RC-Cornet® PLUS NASAL SET
Converts every basic device into
an RC-Cornet® PLUS NASAL.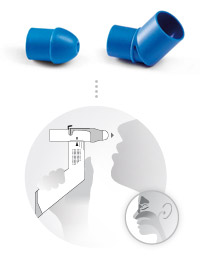 PPN 111 305 820 282
Article no. 2683
RC-Cornet® PLUS tracheal attachment
Converts every basic device into
an RC-Cornet® PLUS TRACHEO.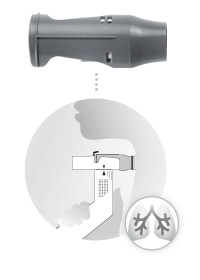 PPN 11 13 348 532 53
Article no. 2621
Ordering Information
The RC-Cornet® PLUS is available online as well as in pharmacies and medical supply stores in Germany.
PPN: 11 12 419 336 67
Article no. 2600
We will be happy to answer any questions you may have.
Please contact us: Mondays to Thursdays from 9 to 12 h and 14 to 16 h. Fridays from 9 h to 14 h, German time.
Instructions for use, product brochures and supplementary information as PDF downloads, are available here.
You may find the following products interesting:
Please note that product images may differ from the original product.
1 Studies are available upon request.